While the events and characters of my book are fictional - Every place I've mentioned in
Alone In The Light
is a real place. You can visit all of them... I'd really recommend against F.O.B. Kalsu in Iraq though... And Camp Wolf no longer exists. But Fairland and Batesville, Indiana are both very real. As well as Indiana University in Bloomington. Some of the buildings have changed names since 2005, but the overall visuals are still the same I believe.
I've
scoured
spent 30 seconds looking on the internet and found some lovely photos to help act as sort of a visual guide to the book if you'd be interested.
We'll start with Iraq and Kuwait.
Kuwait - Camp Wolf
A small tent city built near the Kuwait International Airport to serve as the APOD or Aerial Port Of Debarkation. This housed support personnel for the theater. Including the CSH or Combat Support Hospital - Mary Fischer's unit.
It was hot, dirty, and featured a pretty good dining facility - as well as access to Domino's Pizza via delivery. Just sayin...
Iraq - F.O.B. Kalsu
Kalsu was a small F.O.B. - Forward Operating Base. While I was there, it housed our unit and a unit of MPs. We were there to conduct patrols, raids, checkpoints, route security, and act as a QRF (Quick Reaction Force) for any unit in the area that may need assistance. We had small tents that we equipped with wooden floors, doors, and air conditioner units that we built little stands for out of 2x4s and hooked them into the tents. It was pretty redneck.
This Humvee is parked on an overpass that stretches across the M.S.R. or Main Supply Route. This was the main road from US forces in the south to Baghdad. This is the stretch of highway where Josh Carpenter receives his injuries during an I.E.D. attack.
This particular humvee is not tan as depicted in the book, but the armor plating described within is the same... this was my "truck" while we were at Kalsu.
Indiana - Batesville
Batesville is a small town in Southeastern Indiana and it is where Mary Fischer grew up and where her family still resides.
The locations mentioned in it are still very much alive and active. Ison's Pizza is a local favorite with their pizzas and soft serve ice cream. In addition - there is Charlie's - or actually "Lil Charlies" which is a local brew house and home of some pretty good food.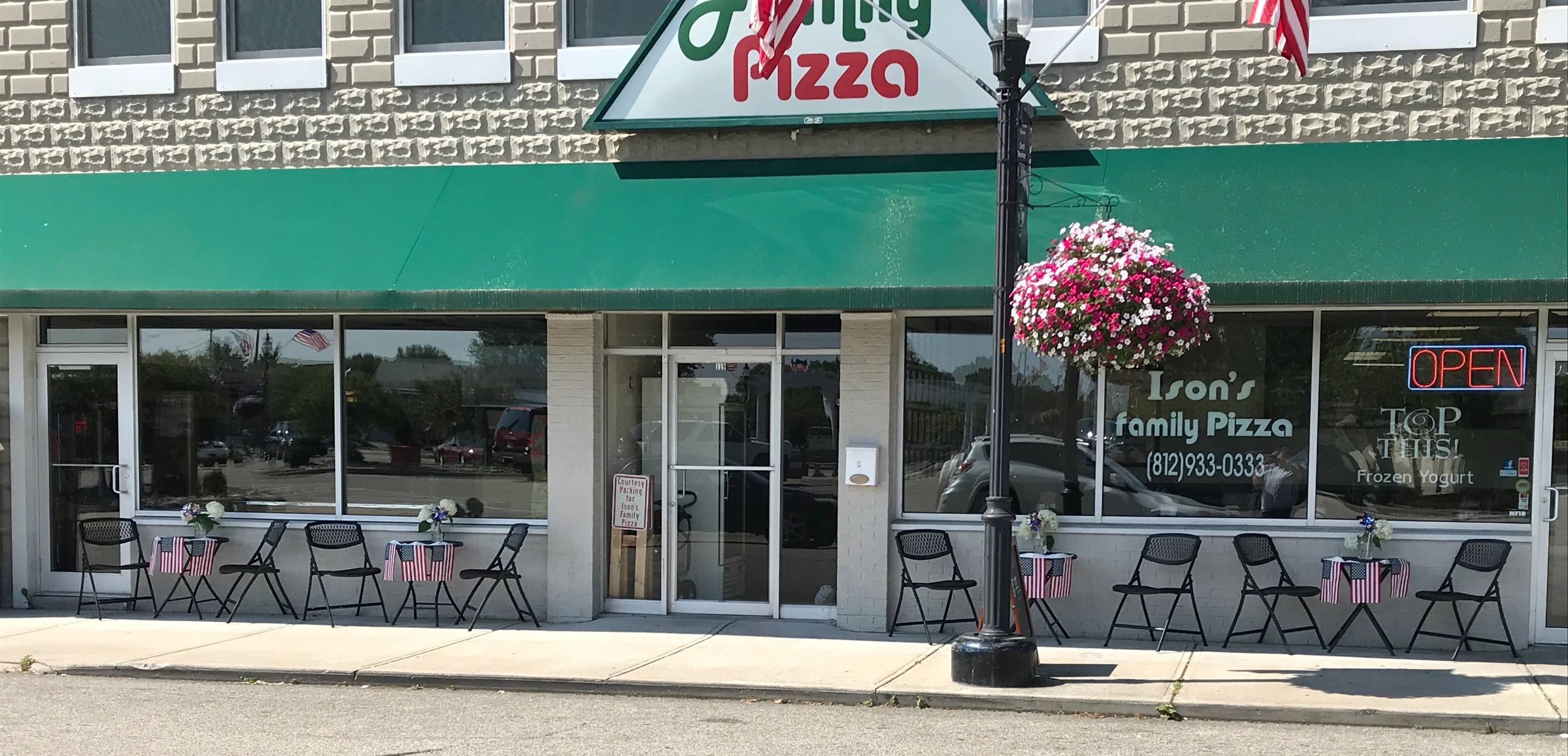 There are so many parts of Batesville I wanted to include because it is such a remarkable little town.
But - I didn't want to go through the entire town street by street, so I'm going to leave it with these two landmarks for now.
Indiana - Fairland
If Batesville is small - Fairland is downright tiny. No stoplights to be seen. Surrounded by fields of corn, soy, and wheat. It's a small community of people who all know each other... and, coincidentally, where I grew up... and where I came home to after my deployment to Iraq.
Indiana - Bloomington - Lake Monroe
The double-decker pontoon rental on Lake Monroe is not only real... it's something I've done on multiple occasions and with many people. My 27th birthday was spent on one of these.
Lake Monroe was built by the Army Corps of Engineers in the 1960s and is just a great place to spend some time if you get the chance.
Indiana - Bloomington - Indiana University
The majority of the story takes place at IU... specifically the School Of Fine Arts - which, I've learned, is now called the School of Fine Arts, Architecture, and Design... but for me it will always be SOFA. Just like the Art Gallery will always be the SOFA gallery and not the Grunwald Gallery of Art.
Nick's English Hut on Kirkwood.
One of my favorite places. The downstairs is narrow and crowded. The walls are covered in old memorabilia from the days of IU as well as a giant, stuffed Bison's head.
The "new" upstairs bar at Nick's.
It's a much more open area and home to a key scene in the book.
I spent many a day there with Jay the bartender watching the Cubs and drinking Bud Light...
Mary's Apartment at Knightridge... It's a real place as well. I spent many a night in one of these little apartments watching movies with the woman who would eventually become my wife...
Josh's apartment is this small, limestone building across from the Bryan Park pool off of Woodlawn Avenue. These little apartments were amazingly small and comfortable with the large, wall-mounted furnace in the short hall between living area and bedroom.
The building manager at the time is a former US Olympic Wrestler - and one of the nicest men I've ever known.
So - that's the little tour of
Alone In The Light.
I hope you enjoyed it...
Late addition - Showalter Fountain.
Mary spends some time in front of this beautiful statue - as do many students.